One of most powerful multi currency and multi language POS software in the world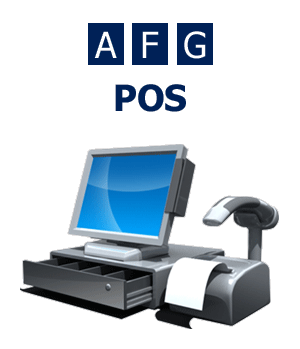 AFG POS is one of the best multi language (English, Arabic and Farsi) and multi Calendar and multi currency P.O.S software in the world. It works with Gregorian calendar and Solar Hijri calendar in the same time.

It's ideal selection for supermarkets and all kinds of stores, like groceries, sport shops, audio and video equipment shops, furniture shops, pharmacies, garment stores, tools shops, car spare parts shops, etc.


AFG POS sets up an internet online store for you
If you choose the online store version, you can have the software on your pc and additional online internet version of the software on web, which is your own online store.
We provide you a website which is linked to your pos software's database in your computer, so your customers can see and buy your goods or services in your online store.

So by buying our software, you have Two things:
a POS software on your PC
an online store on internet
This software is one of the best solution for traders who need an internet online shop (for selling world wide)
It has below features:
User friendly, easy to use, every one with little computer knowledge can use it.
(You don't need to be an accountant for using this software)
Flexible and powerful reports. Balance sheet, Profit and Loss, Trial Balance, Daily Profits, and several Charts.
Supports all types of barcode reader as well as touch screen monitors.
Complete Purchase process: Purchase quotation, Purchase, Purchase return, ...
The software accepts these payment methods for your customers: Cash payments, paying by cards, paying by foreign currencies, crediting customers
Managing Telephone orders
Managing Parcells, sending goods to cutomers by courier or post
Managing Internet orders
It controls all your cheques operations
It can send SMS and Emails to customers. (Welcome message, Thanks message, ...)
In this software you can manage your foreign currency bank accounts and customers.
You can save customer pictures and you can set pictures for all accounts and products, so in all editors when you select a ledger or goods, its picture appears.
Multi level stock items grouping.
It controls Minimum order quantity in your inventory.
Managing Expiry date of items (if it has)
Software has graphs and shows you monthly profit and loss in bar lines.
Setting credit limit for customers.
in this software you can define users with different levels of access permission, for example you can define a user who can not see your profits.
supporting all kinds of windows including all Server windows, Windows vista and 7, 8, 10
Free installation and free Tutoril Training video files.
Lifetime warranty and free upgrading.
7 days a week online support with AFG software chat system.
Download Demo »
Guide »
Price List
| | |
| --- | --- |
| AFG POS | USD |
| Single user for One computer | $ 495 |
| for 2 computers | $ 695 |
| for 4 Users / PC | $ 995 |
| for 4 Users / PC + internet online store | $ 1,895 |
| for 10 Users / PC + internet online store | $ 2,895 |
Plus 9% annual charge which is starting after one year.
Our Services

All of our services are online. Using softwares like TeamViewer or AnyDesk

Whenever a customer has a problem with their software or has a question from us, he / she can speak with our online chat operators in our website and if he needs our technicians to check his computer, we can connect to his pc by above mentioned softwares and checking his PC right away.
Installment plan

You can buy our software by installment plan also, in this case you will pay in 4 installments in 4 months, 3% flat interest will be added to each installment.

if you would like installment plan, contact us


---