One of most powerful multi Language, multi currency and multi calendar Restaurant and Coffee Shop software in the world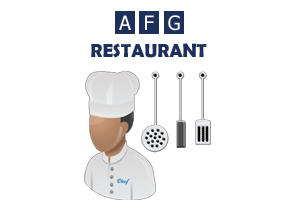 AFG Restaurant software is a windows base software and designed for restaurants and Coffee Shops where food is serving on Tables. In this software the tables are displayed graphically and you can select the desired table and place an order for that table. Usually this is done by waiters who go to the customer's table with a tablet in hand and take their orders.

When the order for a table is entered, the software changes the color of the table to yellow, which means an order entered for the custom table but has not been served yet.

There is a computer or tablet in the kitchen that is connected to the system and as soon as the waiter takes an order, one lines appear on the computer in the kitchen and the system announces to the kitchen that we have a food order.

The chef prepares the food and then, by clicking on the appropriate row, turns it into red, which means the food is prepared.

The waiter sees on his tablet a red order that means a food is prepared and ready to serve, picking it up from the kitchen and serving it at the customer's table, then recording on his tablet that the order was served and That order turns to blue color.

Everything is automatic in this software and the communication between waiters and orders on the tables and the kitchens and the cashier and manager is done by the software.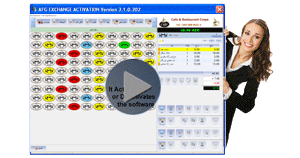 Finally, when the customer pays, the color of the order and the table on which the order was placed will change to green and will remain the same until the customer leaves the restaurant. This means: the green is a table which is paid but the customer has not left the restaurant yet.

In this software you can define several kitchens. For example, The main kitchen, Coffee shop section for preparing drinks, Fast food section, Hookah section (Shisha), etc. then, in defining foods, you can specify each belongs to which section. This will be shipped to the relevant place when the customer orders, for example shisha orders send to shisha preparing section and milkshake orders to the coffee shop section and main course orders to the main kitchen and it will appear as a new order on the computer where it is installed in Kitchen or other related sections.

Each section announces on their computer that the order has been prepared and it automatically notifies the waiter.

This software is suitable for all Restaurants, Coffee Shops and Bars where customer orders are taken on the table and customer pays the bill at the end.

This software has below features:
User friendly, easy to use, every one with little computer knowledge can use it.
(You don't need to be an accountant for using this software)
The power of defining different restaurant saloons and tables for each saloon.
The power of defining kitchens and different parts of the restaurant where food, salads, drinks and shisha are prepared.
Power of defining delivery guys and complete control of outbound orders.
Power to define up to 5 banking pos machines for customers who paying by bank cards or credit cards.
In this software customers can pay the bills by foreign currencies.
The ability to define and grouping foods and beverages with their photos.
In this software all accounts and customers could have photos.
In this software you can define and manage your bank accounts with different currencies.
You can buy raw materials of restaurant with different currencies as well.
Supports all types of barcode reader as well as touch screen monitors.
It can send SMS and Emails to customers. (Welcome message, Thanks message, ...)
It controls Minimum order quantity in your inventory for raw materials.
Flexible and powerful reports. Balance sheet, Profit.
and Loss, Trial Balance, Daily Profits, and several Charts.
Complete Purchase process: Purchase quotation, Purchase, Purchase return, ...
Power to produce closing voucher at the end of financial year and all year-end operations.
supporting All kinds of windows including all Server windows, vista and 7, 8, 10 (SQL server version is runable on Mac, iMac , iPad and
all kinds of tablets with android operating system and ios) by remote desktop method
Free installation and free Tutoril Training video files.
Lifetime warranty and free upgrading.
7 days a week online support with AFG software chat system.
Download Demo »
Guide »
Price List
| | | | | |
| --- | --- | --- | --- | --- |
| AFG Restaurant | | Database | | USD |
| for 1 computer | | Access | | $ 790 |
| for 4 computers | | SQL Server | | $ 1,490 |
| for 9 computers | | SQL Server | | $ 2,590 |
| for 18 computers | | SQL Server | | $ 3,950 |
Plus 9% annual charge which is starting after one year.
Our Services

All of our services are online. Using softwares like TeamViewer or AnyDesk

Whenever a customer has a problem with their software or has a question from us, he / she can speak with our online chat operators in our website and if he needs our technicians to check his computer, we can connect to his pc by above mentioned softwares and checking his PC right away.
Installment plan

You can buy our software by installment plan also, in this case you will pay in 4 installments in 4 months, 3% flat interest will be added to each installment.

if you would like installment plan, contact us


---